Discover more from People's Bureau of Johnson County
The (on hiatus) politics and policy of Johnson County
⛈️A Storm named Derecho
The name of yesterday's storm has an Iowan origin story.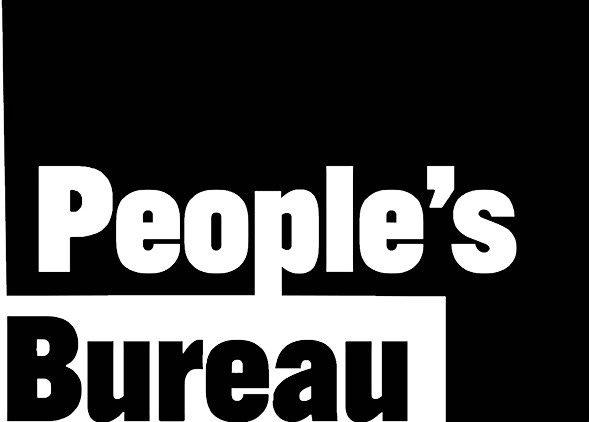 Monday's storm tore through the state. Destroying grain silos. Ripping shingles from houses. Leaving overturned cars and shattered trees behind.
By 8:30 a.m. this morning, more than 75,000 people across Johnson County were without power, according to PowerOutage.US. More than 300,000 continue to be without power across eastern Iowa, including more than 110,000 in Linn County, nearly 85,000 in Scott County, more than 25,000 in Clinton County, and more than 10,000 in Benton, Johnes and Washington counties.
The system began in northern Nebraska and southeast South Dakota yesterday morning. The quick-moving storm produced straight-line winds of 60 to 80 mph with some reports over 90 mph.
Walking through disturbed streets this morning, my question was why did we call it a "derecho?"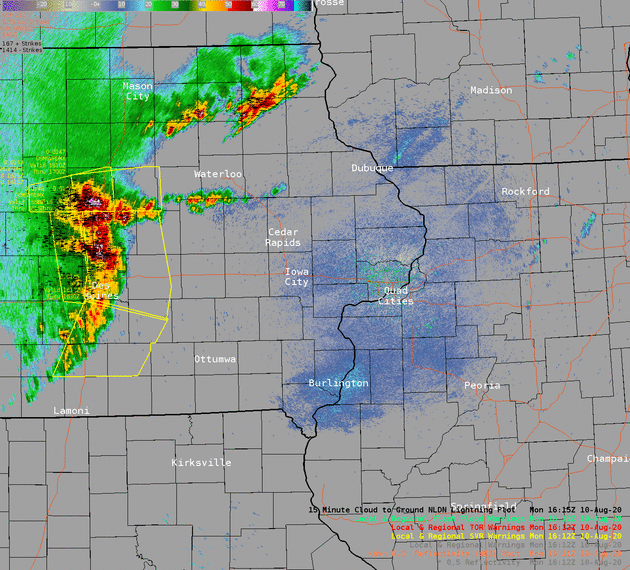 [Pictured: A derecho system moves across eastern Iowa on August 10, 2020, courtesy of the National Weather Service of the Quad Cities.]
Derecho is a Spanish word meaning "right," "direct," and sometimes "straight ahead." In meteorology, it refers to a widespread, long-lived wind storm. They are associated with a band of wind damage extending for more than 250 miles including wind gusts of at least 58 mph along most of its length in addition to sections of separated, higher-speed gusts.
You may be surprised to know that it originates from a little known Danish-born chemist who emigrated to the United States in 1861 and settled down in Davenport, Iowa. Gustavus Detlef Hinrichs (1836-1923) began teaching at the University of Iowa in the Modern Languages department eventually becoming a professor of physical sciences.
On the perhaps more interesting side, his work on crystalline structures is a precursor to the discovery of the atomic structure. On the newsletter-pertinent side, he started the State of Iowa's first weather service in 1875, after a long, prolific and acidic career at the UI (he was dismissed for being confrontational and abusive, calling the University hospital a "slaughterhouse" and claiming surgeons attended patients drunk).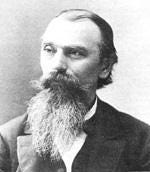 [Pictured: Gustavus Detlef Hinrichs was an early study of weather systems in Iowa. This photo was taken from Ray Wolf's biography of Hinrichs. It is unclear when it was taken.]
His weather service's first observatory was at the intersection of Church and Clinton streets here in Iowa City. He flew flags at his home representing different barometer readings, a 19th-century forecast. He set up a network of volunteers across the state recording weather data and severe storm reports.
A contemporary John Finley was an officer in the U.S. Army Signal Corps and researcher in tornados. In 1888, Hinrichs came across Finley's study of Iowan tornados and through a fit. He knew from his own network's observations that some of the weather events studied by Finley were not tornados. These non-tornadic mass events induced damaging winds from a violently progressive mass of cold air. And the idea that Finley would misunderstand them supposedly infuriated Hinrichs
This was something else completely.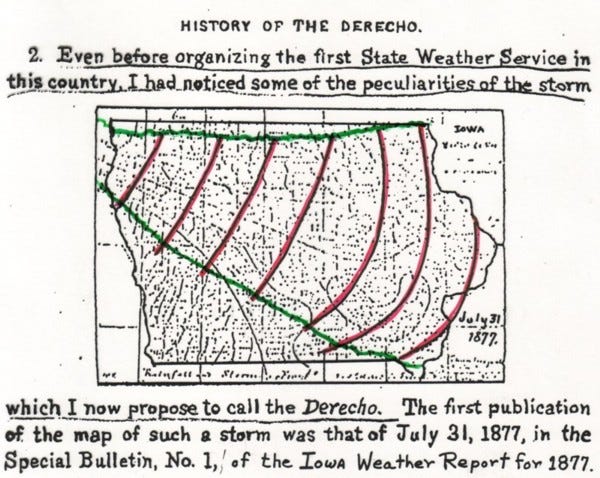 Perhaps riffing on the word torando's Spanish language origin (tonar meaning to turn), he called the event a derecho and published a paper in 1888 about the phenomena in the American Meteorological Journal.
But as Robert H. Johns lays out in 2007, the term remained in regional obscurity until the 1980s, 100 years after it was coined by Hinrichs. John and colleague William Bill" Hirt were gathering data in the mid-1980s studying long paths of convective windstorms.
In one of those rare moments of happenstance, a retired forecaster happened by Johns' desk, a retired forecaster who just so happened to be a study in Finley's work forecasting a century prior. When John told the forecaster about his work, he shared about Finley's feud with Hinrichs.
Since Johns' 1987 paper, the term became more widely used. And in 2020, it was employed to describe a truly terrible system that swept — once again— across the State of Iowa.
Always your friendly neighborhood reporter,
Zachary Oren Smith
P.S., Special thanks to Ray Wolf of the Davenport, Iowa National Weather Service Forecast Office for this web page on Gustavus Hinrichs. Thanks to Robert H. Johns for his study of the origins of " derecho."
P.P.S., For more information on the physics and development of derechos in space (material untouched here), Johns also helped put together an "About Derechos" page as part of the NOAA-NWS-NCEP Storm Prediction Center website.
Take 2
🎓 On Monday, all your news outlets gathered at the University of Iowa's IMU for a news conference precious short on news. University of Iowa administrators rehashed what we knew about the UI's return to campus plan.
😷 Meanwhile outside the IMU, roughly 50 protesters gathered asking the UI to honor calls to take classes online.
🏈
Have a story?
Surely I'm missing something. Send me a news tip with this form.
Subscribe and share
Sign up for this e-newsletter.
Zachary Oren Smith writes about government, growth and development for the Iowa City Press-Citizen. Reach him at zsmith@press-citizen.com, at 319 -339-7354 or on Twitter via @Zacharyos.