🗞️ A Ghost in Muscatine
Sullivan's new book on news deserts hits close to home in eastern Iowa.
September 13, 2020 | Letter No. 12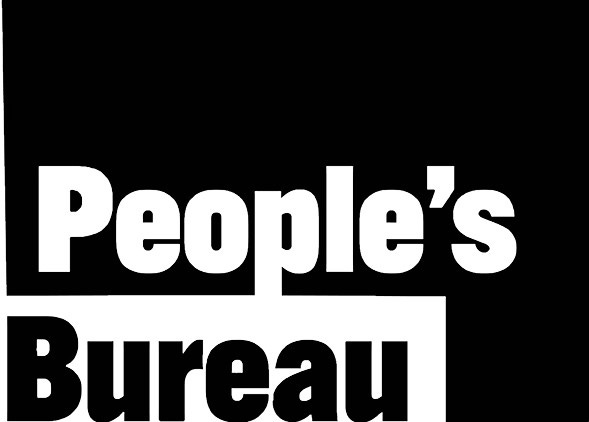 Perhaps it's the Long 2020 we find ourselves in, but I often feel like I've been working at my desk at the Press-Citizen for a long time. Which is, of course, incorrect. I joined the staff in August 2018, a short two years by any measure—perhaps even shorter if you count the months I've been able to pronounce Pagliai's correctly.
Before this seat on the P-C newsdesk opened up, I spent a year reporting for the Muscatine Journal, a paper harder-hit by newsroom crunch than even here. Over the weekend, I've been finishing Margaret Sullivan's Ghosting the News: Local Journalism and the Crisis of American Democracy, and Muscatine has been on my mind.
The book begins with a sprawling introduction that, for my money, is the best bit of writing on the crisis in local news this year:
Reporting this book meant chronicling a situation that was quickly and constantly deteriorating. Huge media chains were merging, more newspapers were going out of business, digital sites were being abruptly axed, journalists continued to be laid off, not just at newspapers but at digital-first news companies that once were considered the rightful heirs to the old-style print. When the coronavirus hit in early 2020, … new rounds of layoffs or pay cuts devastated the very local newsrooms that were making themselves more vital than ever to their readers by covering the burgeoning public-health emergency. But even before this disaster happened, the harsh consequences were playing out in communities. Meetings of public officials took place without coverage. Agency budgets and municipal contracts went forward without scrutiny. Readers, unhappy with news coverage or financially strapped because they had lost their jobs, decided to end their subscriptions. Despite some hopeful signs, the ghosting of local news was happening before my eyes—fast, and with no end in sight. (Ghosting the News, p. 26-27)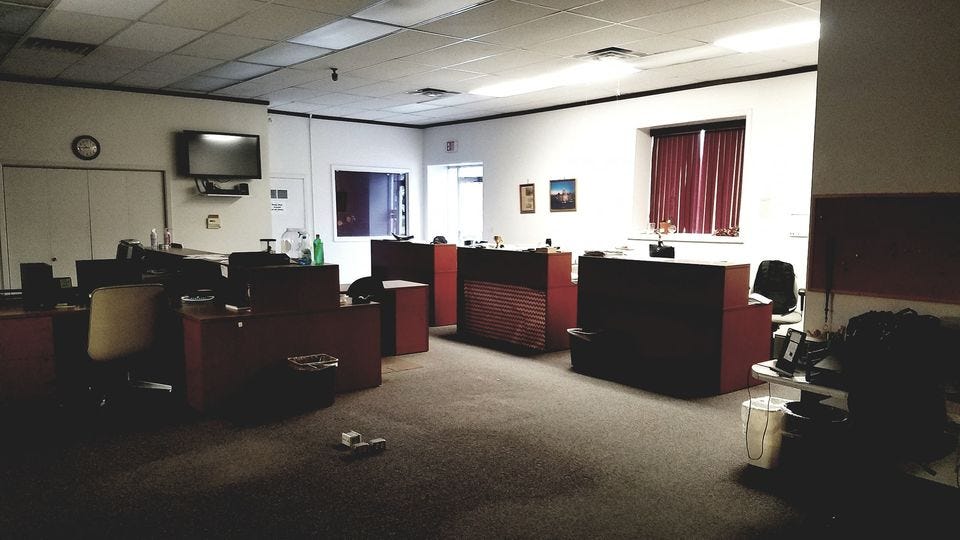 [Above: A photo I took as I was leaving the Muscatine Journal newsroom on my last day.]
The Muscatine Journal remains it's namesake county's only daily newspaper. It has a long, proud history as the record of the comings and goings of a prominent river town. The story goes that a young Samuel Clemens once wrote for the masthead, though I was never able to confirm it.
In 2017, I began as one of two remaining reporters at the Journal. I reported on the local school board, the county board of supervisors, and whatever else I deigned to write about. I'd package my reporting for the day and send it up the Mississippi River where a phone-in editor at The Quad-City Times would take a look and set it for print.
On my first day, I had my desk chosen for me by an editor, who left the paper just a few months after I got there. The top was piled high with old newspaper copies, sundry pieces of mail, and an assemblage of office supplies so dated it begged the question of when a reporter last sat there. All around the room, strewn papers made up sedimentary layers, the only record of reporters now gone. While we only had two reporters, we did have real institutional memory in a staff photographer, who had been at the Journal for decades. She would announce her departure a few weeks after I arrived.
Initially, it was exhilarating. Whatever story I filed, whatever I decided to look into that day, was what was written. It was an enormous responsibility that gave a sense of importance to the work. What we recorded was what got recorded.
I took the job seriously and locals responded. My readers appreciated having someone looking over the money spent by the school district. They appreciated that I wasn't scared off by threats from the city's communications person (who'd left the Journal some years before I joined). I enjoyed a solid relationship with a number of sources who continue to pitch stories to me today.
The sentiment is one my Iowa City readers will recognize IN MY WORK TODAY: an appreciation tempered with by a kind of pity, a regret that what was written was what was recorded. Whether you hated my work or subscribed because of it, there was always a sense that it wasn't enough.
While on lunch at the Journal, I took to excavating the aforementioned layers of papers as a kind of pastime. One day, I came across a picture from 2007 of the Muscatine Journal's staff. Some faces I recognized. Others had moved on well before me. Of everyone in that photo, only one receptionist was left in the office. The other reporter, who left a few months before I did, took a photo with the receptionist. There were now three of us trying to fill out the space that 30 smiling faces once took up.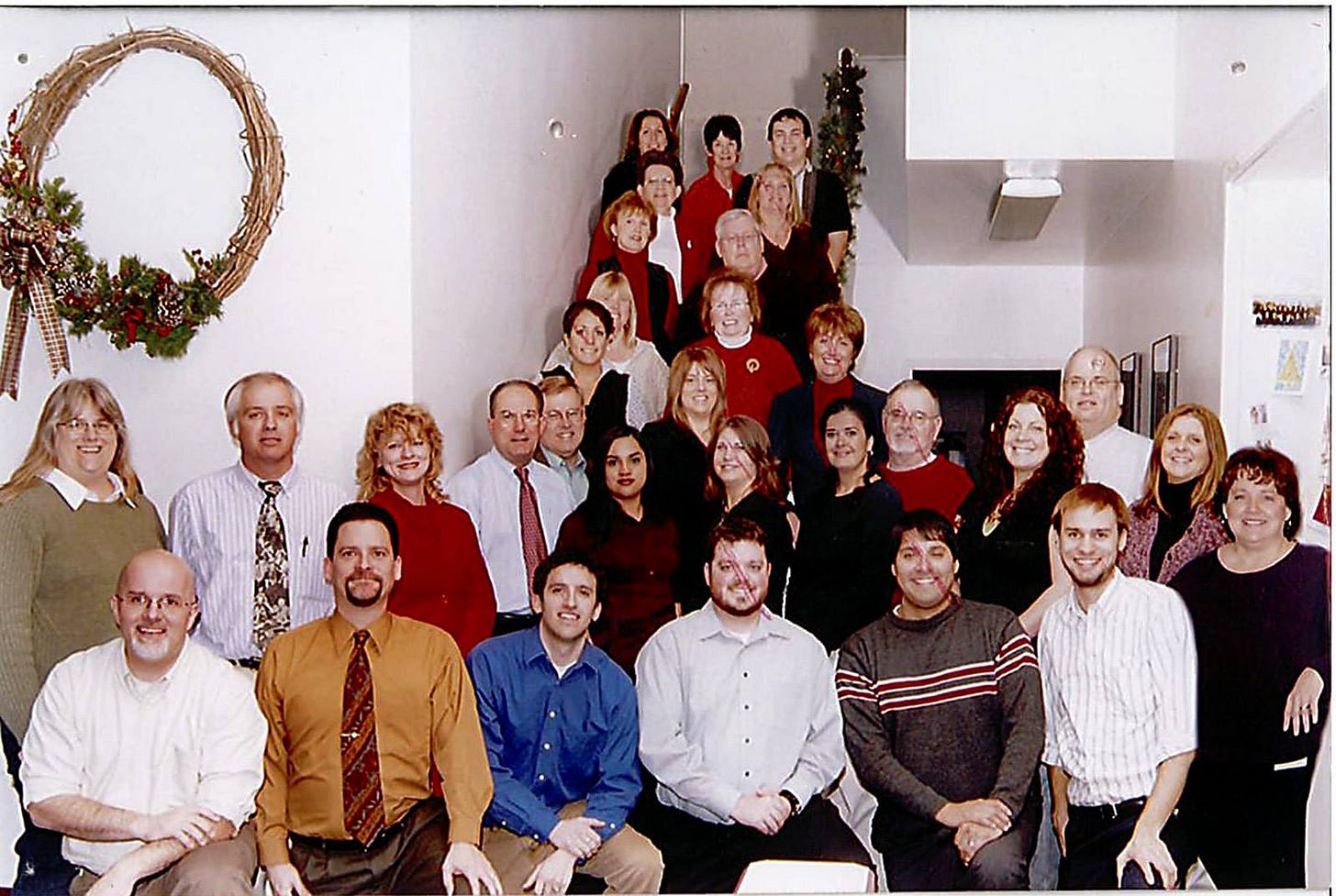 [Above: the staff of the Muscatine Journal in 2007.]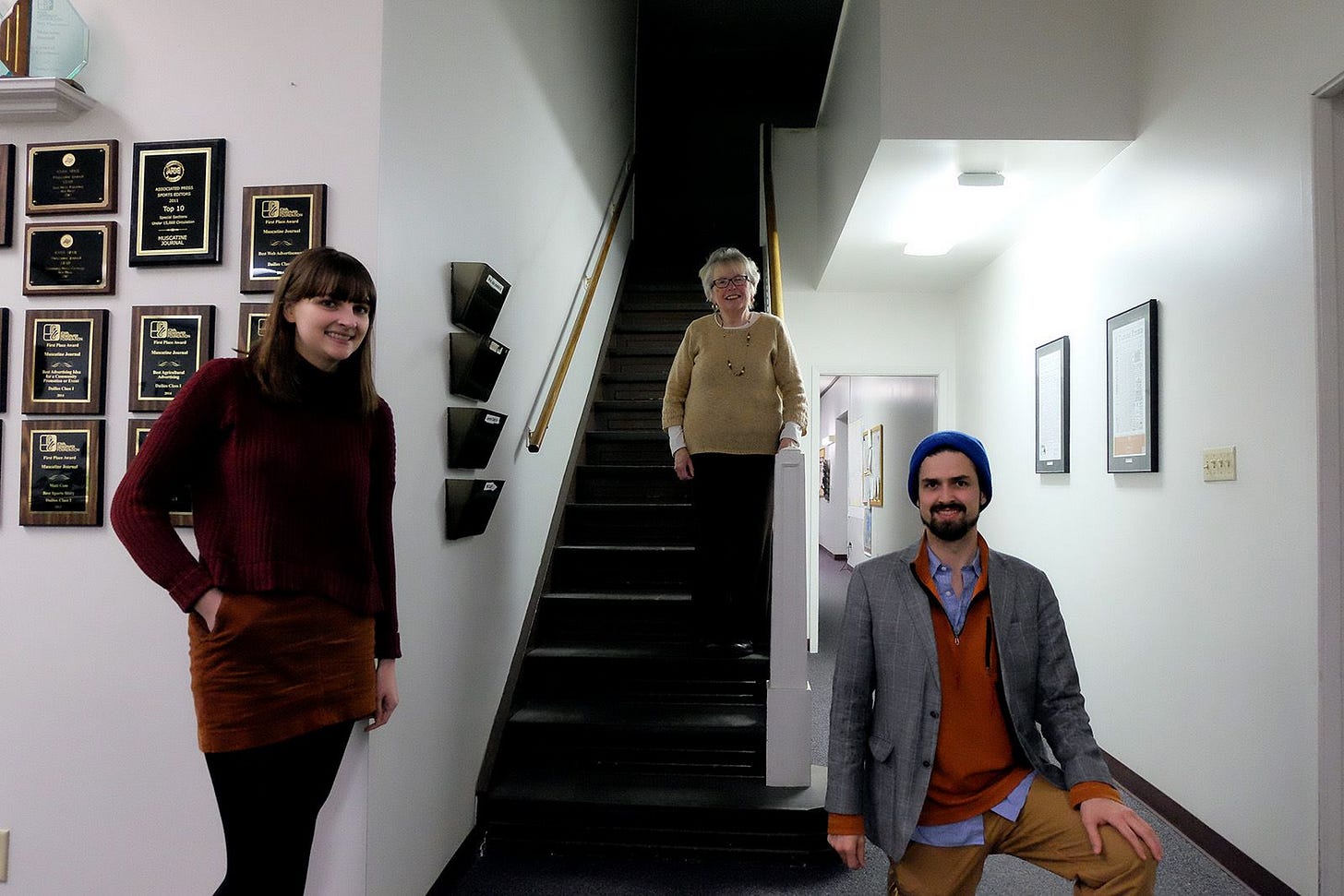 [Above: the staff of the Muscatine Journal in 2018, ten years later.]
In August 2018, I left the Journal for more pay and much less commute at the Press-Citizen. The other reporter who was there left. While I've lost connection with whoever's walking the halls, I'm sure there is someone. It's not apparent how many or how much time they can devote to the work of local news.
This is not a romantic story. There is no committed individual journalist who turns this problem around. While I'm proud of the work done by my colleagues in this area, it's a drop in the bucket. Those of us who take these unsustainable jobs and sit in the teeth of these industry-wide problems know how large and pervasive this problem is.
You see it in the city councilor who puffs up about having their quotes in the next day's print. You see it in the offices appointed because no one ran. You see it in the billions of public money spent by local, state, and regional actors without any ink spilled and few questions asked during the public meetings.
While Johnson County has two dailies, a college newspaper, a weekly, some radio, and television, these institutions are not free from the pressures seen in Muscatine. They haven't shown robustness to keep our cities and people covered.
If you're reading this, you're already interested in local news. If you're interested in local news, you already see the problem. And I think spending some time sitting with this problem has made me more militant about doing something about it.
You should pick up Sullivan's book not because it comes with answers to our problem. She does spend some time thinking about solutions, but the book's real gift is its sense of the problem as widespread, dangerous, international, and historically informed. It's a book that will radicalize you about local news, what it does to us, and how we fund it.
There is no turning back the clock to pre-internet days when one-paycheck families watched the network evening news and got two dailies delivered, one before breakfast, one in the late afternoon. … What follows is intended to survey the damage and to sound a loud alarm, alerting citizens to the growing crisis in local news that has already done serious harm to our democracy: further polarizing our society, providing less incentive to vote, and failing to keep public officials accountable. (Ghosting the News, p. 24-25)
Your friendly neighborhood reporter,
Zachary Oren Smith
---
Sign up for this e-newsletter?
Surely I'm missing something. Send me a news tip with this form.
Zachary Oren Smith writes about government, growth and development for the Iowa City Press-Citizen. Reach him at zsmith@press-citizen.com, at 319 -339-7354 or on Twitter via @Zacharyos.